North American Board of Certified Energy Practitioners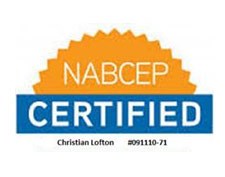 The North American Board of Certified Energy Practitioners (NABCEP) was founded in 2002 as a non-profit 501 (c)(6) corporation with a mission "to support, and work with, the renewable energy and energy efficiency industries, professionals, and stakeholders to develop and implement quality credentialing and certification programs for practitioners."
NABCEP is a voluntary certification that has become the "gold standard" certification in the renewable energy industry. In order to gain NABCEP certification, an candidate for NABCEP certification must have:
experience in the field acting as the person responsible for installing PV systems
a minimum of 58 hours of advanced PV training before the application deadline
an OSHA 10 hour construction industry card or equivalent
After training and coursework has been completed, a candidate must pass the certification exam specific to their field.
Although the certification is voluntary, NABCEP certification is required by utility companies as a requirement for a grid-tied photovoltaic installation.