Solarize Triad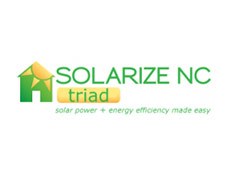 RED Group has been selected to participate in various programs that utilize "buy-in-bulk" to pass savings on solar installations along to customers. A staff mostly comprised mostly of volunteers led a program that raised awareness of the environmental and financial benefits of integrating photovoltaic systems in the Piedmont Triad.
Organized by NC WARN, "Solarize Triad" was a program to promote solar installations for residents in the Winston-Salem, Greensboro, Kernersville, and surrounding areas via a a tiered pricing model. As more people signed up to participate, participates gained access to lower prices. Renewable Energy Design Group was selected to partner with NC WARN because of our teams vast experience and impeccable reputation in the solar industry.
NC WARN is a member-based nonprofit tackling the climate crisis and other hazards posed by conventional electricity generation by building people power for a swift North Carolina transition to energy efficiency and clean power generation. In partnership with other groups, and using sound scientific research, NC WARN informs and involves the public in key decisions regarding their health and economic well-being. NC WARN is dedicated to climate and environmental justice, thus seeks to address the needs of all of the public by intentionally including those often excluded from participation because of racism, sexism, classism, and other forms of oppression.