Get to know Christian Lofton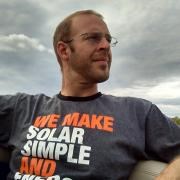 Christian Loften and his business partner, Jeff Redwine, are co-founders of RED Group NC, a NABCEP-certified company. With over 600 solar panel projects under the group's belt, Christian has learned what needs to be done to exceed client expectations and deliver ROI on solar energy projects.
Hometown:
Owasso, Oklahoma
Favorite song:
Society (Eddie Vedder).
Favorite food:
Watermelon
Beach or Mountains?
Mountains
What is your favorite tradition?
Christmas morning
What is one of your proudest accomplishments?
Volunteering with the Peace Corps
What is on your life's bucket list?
Visiting the Redwood Forest
When not working at RED Group, what do you do for fun?
Garden or Tinker in my shop