Get to know Jeff Redwine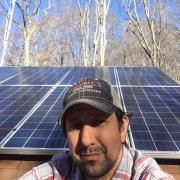 Jeff Redwine, Co-Founder of RED Group NC, hopes to make solar panel installation affordable North Carolina residents
Growing with my family while working with people I admire is a blessing. Our team is passionate about the service and quality of systems we install, it makes it even more rewarding to work with high caliber individuals who are knowledgeable and reliable. Having installed over 600 installations with my partner Christian Lofton we have learned what needs to be done to exceed our clients expectations. Our goals are to make solar affordable and promote distributed generation in an effecient and sustainable manner.
Jeff Redwine graduated with a business degree from the University of Texas in Arlington, and has worked to promote clean energy systems in various states and countries. Jeff's first solar project was on 22 off-grid huts in the rain forest of Panama as a Peace Corps Volunteer and he has been working in North Carolina and Texas in the renewable energy industry ever since. As co-owner and co-founder of Renewable Energy Design Group, l3c (RED Group) he works to integrate clean technologies at the residential and commercial level.
Hometown:
Fort Worth, Texax
Favorite song:
Just one??? Stevie Ray Vaughns version of Voodoo Child is pretty great, ask me again tomorrow.
Favorite food:
Mexican and Sushi, but not Mexican Sushi
Beach or Mountains?
Mountains but I love the sandy salty surf.
What is your favorite tradition?
"Birthday Week" celebrations with my wife and daughters
What is one of your proudest accomplishments?
Convincing my wife to marry me.
What is on your life's bucket list?
Snowboard and fly fish in Patagonia and serve in the Peace Corps, again after my children are grown.
When not working at RED Group, what do you do for fun?
Play with my children, woodworking, camping and enjoying the outdoors.